Crossings Healthcare Solutions is coming to the Cerner Health Conference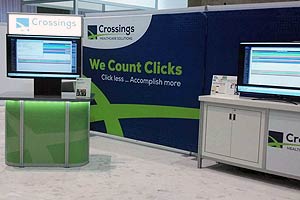 We look forward to connecting with you at Booth #800, from October 9-12, where we will showcase our clients' experiences with the Crossings' solutions, as well as demonstrations of our tools.
Visit our booth to hear Crossings' clients speak about their experience with our tools:
Client: St. Thomas Health, Ascension Health
Topic: Provider Workflow Optimizations with Enhanced Dynamic Documentation
Date: Tuesday, October 10, 2 – 3 p.m.
Speaker: Anna Pannier, MBA, FACHE, Director, Ascension Information Services
Client: North Kansas City Hospital
Topic: Clinical Efficiencies with Crossings' Tools: Quality Advisors and Physician Communication
Date: Wednesday, October 11, 11 a.m. – noon
Speakers: Todd Beardman, MD, Chief Medical Information Officer and Michelle Sullivan, BSN, MBA, Senior Clinical Informatics Nurse
In addition, we will be presenting as Cerner clients on a variety of topics, including:
Enhancing the quality of physician documentation using Document Quality Review (DQR)
Managing deployments and adoption of CareAware Connect
A great day in the OR: predictive models for PACU stays and planning huddles
Too many tasks! Undertaking a Major Task Cleanup
Learn more about the following tools and solutions at our booth:
Solutions for Physicians
Enhanced Dynamic Documentation
Quality Advisors
Physician Notification
Order History
Blood Transfusion Advisors
TPN Advisor
Prescription Routing Program
Insulin Advisor
Professional Fee Billing Component
Solutions for Nurses
Patient Care Dashboard
Table of Contents
Electrolyte Advisor
Interdisciplinary Rounding
Height, Weight, Allergy Advisor
Powerform Search
Solutions for Physicians and Nurses
Perinatal/Related Records View
Solutions for the ED
Emergency Department Triage
Solutions for Information Technology
Smart Template Wizard
Auditing Tool
Citrix End User Experience Monitoring and Management
For more information, email [email protected] or call 610-994-2200.