Document Quality Review can improve quality metrics and increase efficiency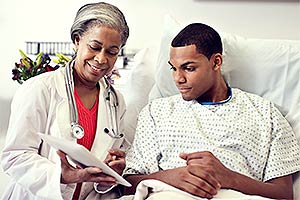 Hospitals and physicians are increasingly being measured on the quality of care delivered and metrics such as severity of illness (SOI), risk of mortality, observed/expected mortality, and length of stay. Metric and quality scores are dependent on accurate, quality physician documentation of the patient's clinical condition.
The Document Quality Review (DQR) is a tool that integrates with the Dynamic Documentation platform. It provides automated decision support that analyzes clinical notes, responding in realtime. The non-disruptive analysis of the clinical notes prompts physicians for clarifications to the patient's clinical condition only when there is a high confidence for additional diagnoses to most accurately reflect the SOI, in turn increasing the accuracy of the quality of care delivered and associated metrics.
DQR gives physicians fewer retroactive coding queries and enables reviews of all information, including notes and evidence, across each patient's encounter and assists in accurately reflecting the quality of care provided.
DQR follows the principles of good clinical decision support as follows:
DQR Communicates
The right information

Succinct and evidence/guideline based

To the right person

Provider documenting patient care
Using the right format
Usable alert
Through the right channel
Physician documentation platform

At the right time in the workflow
Results
Crossings Healthcare Solutions has seen high adoption by target physicians on a voluntary basis, along with exceeding goal response and agreement rates for alerts
Improved coding accuracy
Integration with DQR
Positive return on investment
For more information, email [email protected] or call 610-994-2200.