Shaping the Tools of Crossings Healthcare Solutions
Meet Christopher Moody, Functional Architect
For Christopher Moody, Sr. Application Architect for IS Medical Systems, choosing the favorite part of his job is difficult. Chris has been with Crossings Healthcare Solutions from its inception, so seeing it evolve is at the top of his list.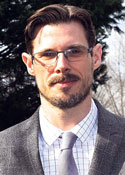 "Having the opportunity to work with facilities who use Cerner solutions is exciting," says Chris. "It's great to see them benefiting from our products, and we gain from their experience and ideas. It's a valuable two-way relationship."
In his prior role, Chris managed the Clinical Informatics Team, working elbow to elbow with early Crossings clients to define their workflow needs. Now, Chris participates in project kickoffs and stays closely aligned with the Project Manager and Clinical Informaticists through the workflow analysis process. "Our products are extremely configurable, and support a range of workflows, which is a huge plus", explains Chris.
Chris also works with clinical and nursing leadership to define the functional evolvement of the solutions and to explore new ideas and innovations.
"We feed off each other's strengths," says Chris. "I always encourage project leads to share their talent. When that happens, the result is what's best for the patients and the users."
Contact the talented people behind Crossings Healthcare Solutions.