The Remedy for Physician Billing Headaches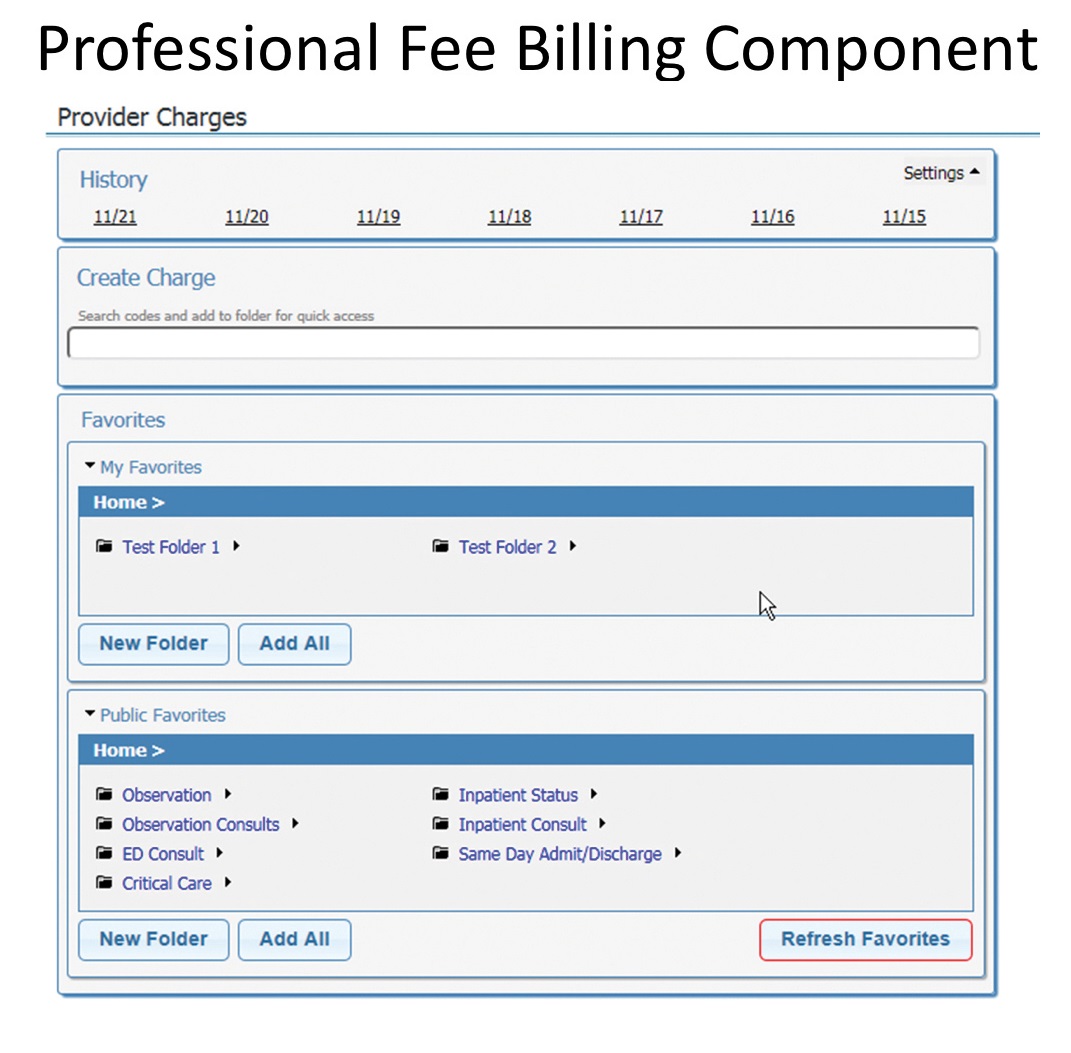 A component of Crossings' Enhanced Dynamic Documentation platform, the Professional Fee Billing tool allows physicians to track and submit billing electronically, directly from the patient chart in the Workflow MPage. It's a quick and easy process that saves time and streamlines workflow. Physicians currently using the Professional Fee Billing Component consider it a welcome change from the unorganized and inconsistent billing practices of the past.
Making Billing Easy and Efficient
With the Professional Fee Billing Component, physicians no longer have to leave the Electronic Medical Record workflow to enter complicated orders. The tool utilizes Cerner® standard nomenclature for CPT4, HCPCS, and modifiers and supports linking diagnosis.
Coding is searchable and physicians can save frequently used codes in a folder for easy access. In addition, decision support is embedded to allow physicians to view a history of recent patient billing. A report of charges may be printed or interfaced directly into the physician's billing system.
The Professional Free Billing Component solves the challenge of juggling multiple methods of generating bills. Physicians now have a single, go-to billing platform that is even smart enough to remind them when a patient has not been billed.
Accolades for the Professional Fee Billing Component
The largest independent academic medical center in the Philadelphia region is implementing the Professional Fee Billing Component across its inpatient settings. According to the Medical Director: "The new billing system is efficient and fantastic."
The Chair of Hospital Medicine notes: "First of all, regarding the product itself, cannot compliment it enough. I have used the EPIC billing system for eight years, and I can honestly say that the Professional Fee Billing flows and performs even better! It is seamless, efficient — literally two to three seconds to enter a charge — and I love the fact that I can attach it to certain documentation."
UHS acute care hospitals are using the tool with great success. "Using this module saves me at least an hour a day, and the office staff is able to generate ad hoc reports to monitor billing activity and ensure that all patient encounters are charged," says Babak Sarani, MD, FACS, FCCM, Associate Professor of Surgery, Director, Center for Trauma and Critical Care and the Transfer Center at The George Washington University Hospital. "And even better, I did this while using the Dragon feature in Cerner."