Move over, white board
New electronic board brings your information together in one place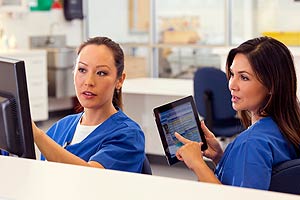 If you have ever been hospitalized or visited someone in the hospital, you've no doubt seen the unit whiteboard at the nurse's station. It is usually filled with patient information that is barely recognizable, given accidental erasures, different handwriting styles and dried out markers. But the new Crossings-developed Inpatient Tracking Board (EBoard) is changing all of that.
The Crossings' EBoard is a dynamic replacement for handwritten whiteboards at the nurse's station because it is integrated within the Cerner Millennium platform to provide caregivers with realtime data. Patient-specific information is aggregated in one location, which improves situational awareness and patient-focused care. EBoard is populated with data entered within the EMR. The MyBoard view allows users to visualize and customize the EBoard from within Cerner.
Jaclyn McGlone, Assistant Manager, Clinical Informatics, says feedback on the EBoard has been very positive, with some facilities opting for dedicated monitoring stations at the unit desk while their big board is being mounted. "The other draw is the capability to customize the information the hospitals want to see on their board. Each unit can have different patient information, depending on their needs," she says. Jaclyn states the first phase of development is complete and requirements are currently being developed for the second phase.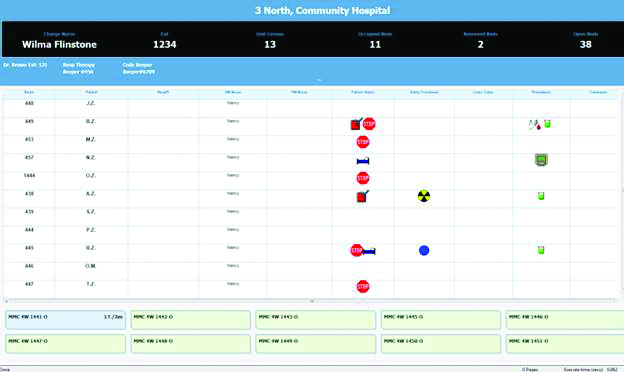 Benefits include:
Time-sensitive alerts for discharges or critical conditions, such as sepsis
Information can be displayed without having to access the patient chart
Dynamic "push" notifications to changes in patient conditions
Configuration allows a customized display of information specific to each unit
User-level interaction allows beds to be reserved and unit/patient data entered in Cerner to be reflected on the tracking board in realtime
For more information on the EBoard, please contact Susan Armbruster at [email protected].