New Crossings Nursing Solution Simplifies Handoffs and Discharge
Inconsistent handoff processes and delayed patient discharges are daily challenges for many nurses. Crossings Healthcare Solutions set out to solve these problems with its Nursing Workflow MPages, currently rolling out at Universal Health Services (UHS) acute care facilities.
The new MPages combine Cerner® functionality with Crossings development, similar to the Enhanced Dynamic Documentation platform. The solution involves two main nursing workflows: One view for shift-to-shift or intrahospital transfer handoffs, and another to support all discharges from the system.
Kelly Jonas, a nurse and clinical informaticist at UHS, helped create the Nursing Workflow MPages. "Two of the things that nurses do most — every shift — are handoffs and discharges," she explains. "Anything that can prevent nurses from having to search for what they need or go through multiple steps to complete tasks is a huge win for them."
Smoothing Handoffs
The Nursing Handoff Workflow MPage enables nurses to document the process from top to bottom in a single view, rather than in multiple places throughout the patient chart. Decision support is provided around that process and information can be pulled onto the Patient Care Dashboard for management use.
"Providing nurses with the ability to go to one place to essentially do everything, including the documentation, makes it a lot easier for them and supports the purpose of handoffs — which is communicating the state of the patient to the oncoming nurse," Jonas explains.
Nurses can see the discharge status of each patient and include recommendations for the nurse taking over. The MPage improves efficiency and clinician communication, leading to better patient care.
Transforming the Discharge Process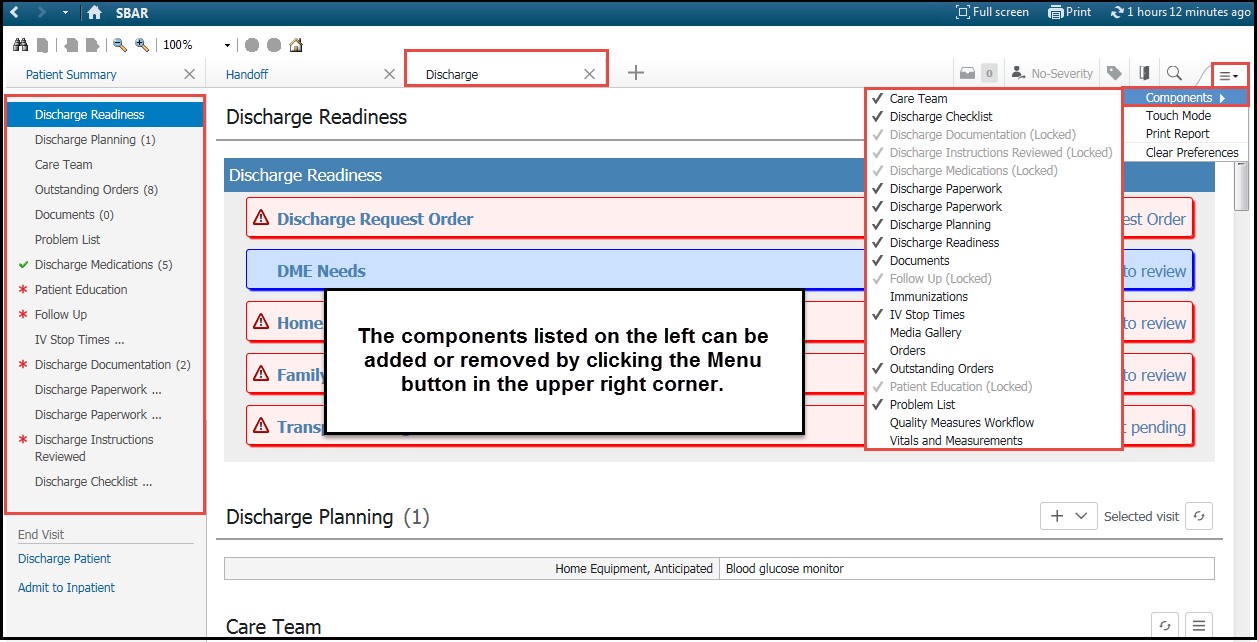 Discharge mPage View: The Discharge Workflow MPage view designed to aid in facilitating and documenting a patient discharge. This view replaces the previously used Discharge Process functionality.
The Crossings Discharge Workflow MPage is designed to begin the discharge process before the order is even placed, at handoff. Patients' discharge-related needs are clearly visible to nurses and a checklist displays their status in real time. The embedded decision support helps ensure that patients do not go home before all discharge requirements are met. This could mean obtaining durable medical equipment or completing an MRI — things that may have been overlooked in the past, delaying the process and sending nurses scrambling.
"The real win for patient care is in the improved discharge process — making sure needs are being met before the patient walks out the door," says Jonas. In addition: "A well-coordinated discharge process cuts back on readmissions."
High Hopes and Future Innovation
Prior to going live with the Nursing Workflow MPages at UHS acute care facilities, Jonas and her team provided users with extensive education. The feedback from demos is positive. "A huge goal is our nurses' satisfaction. From a metric perspective, the hope is we can decrease the time between when the discharge order is placed and when the patient leaves the hospital," Jonas says.
"We also very much hope to increase compliance on handoff documentation, which is a current struggle." Soon, Jonas and her colleagues plan to implement a discharge advisor solution for nurses and an admissions MPage.